Streamline Call Center Workflows with an Integrated Digital Self-Service Platform
Consumer expectations have evolved rapidly, as a streamlined omnichannel experience has become far more commonplace than it once was. Customers have clearly indicated a preference for multiple channels of communication. Specific channel preferences vary greatly among different age groups, at different times, and for different purposes. Most consumers prefer digital self-service as a primary option, but they want to be able to interact with a live person quickly and easily if they can't find the answers they want right away.
Generation X and older consumers might start with e-mail and move to web interaction, resorting to a phone call as a last resort. Gen Z and Millennials, in contrast, might be inclined to use text messages or even chatbots. Companies that can respond effectively to the broad range of different consumer preferences can deploy contact center resources far more efficiently than those who take a more simplistic approach.
COVID-19 has shifted consumer preferences significantly as well. According to the 2020 CMO Council report  Critical Channels of Choice: How Covid Has Changed the Channels of Engagement, the percentage of survey respondents preferring digital channels has more than doubled since 2019.
Agile companies must be capable of responding to that kind of dramatic shift in consumer preferences, not only in response to COVID, but as consumer preferences continue to change in the coming years. Companies that engage customers effectively, using a cross-channel approach, will build long-term loyalty and win market share. Those who don't will fall behind. Agility is no longer optional.
Read the Smart Insights report
Learn how to create a digital self-service engagement strategy to compliment your call center.
At the same time, companies must continue to operate efficiently. Digital self-service technology like those provided with chatbots, virtual assistants, SMS, or even interactive video, provides a win-win solution to the customer engagement challenges we face today. It fills that essential need for a flexible omnichannel approach while creating efficiencies for customer service call centers.  Here's how:
Digital self-service frees up skilled agents for high-value tasks
When customers can easily access the information they need without assistance from a call center representative, it frees those resources up to focus on more complex cases. Instead of answering routine questions, call center personnel can devote the necessary time and attention to resolving challenging customer problems.  Not only is that a better use of time, but it also results in a better experience for the consumer because they get the dedicated attention they need when they need it.
The overall impact on call centers is lower volume, shorter wait times, and better customer experience. In fact, one customer using an integrated chatbot service approach with EngageOne Communicate from Precisely was able to divert 88% of incoming queries away from their call centers. This left their agents free to spend time providing the best service possible to those clients who had more complex needs.
Strong integration gets information to the right people at the right time
By connecting front-office CRM system and back-office ERP, a good customer self-service solution ensures that the right information is available to the right people when needed. When customer billing information, purchase history, insurance plan information and equipment details are all readily available, customer service agents can act quickly and efficiently to make sure callers get exactly what they need.
By bringing together information from multiple sources, your customers are provided with the most up-to-date, accurate information in real-time. Feeding that information into self-service tools, ensures consumers receive a consistent and accurate experience with your company anytime and anywhere they need to access it.
Video brings digital self-service to life
With personalized and interactive video, companies can address many of the most common customer questions and concerns. Companies are using video to explain complex bills and other documents, teach customers to troubleshoot and solve problems themselves, or clarify company policies and contract terms.
Video adds depth and dimension that vastly expands consumers' ability to address challenging problems themselves. Not only does it free up call center resources for other tasks, but it increases customer satisfaction as consumers are able to get the answers they need quickly and easily, and with absolute clarity.
Not just digital self-service … Smarter self-service
Today's consumers also expect a highly personalized experience. They don't want to see information that isn't relevant to them.  Tailoring videos based on the specific products that a customer owns, for example, makes it easier for that person to find the information they need quickly and easily, without turning to a phone call or other channel that requires person-to-person interaction.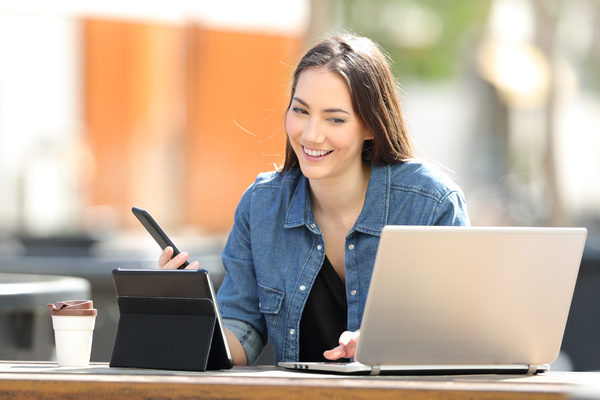 Personalization also extends to consumers' preferred channels of communication. In an age where nearly everyone is equipped with a mobile phone, tablet, or another portable device, companies must be able to engage with their customers anytime, anywhere. Capabilities must include web, mobile, video, and Interactive Voice Response (IVR) so that customers can get the answers they need quickly and easily, regardless of which communication channel they may choose.
Make your call center a profit center
Call-center efficiency isn't just about delivering outstanding service at a lower cost. Winning companies are taking advantage of effective customer engagement and using that as an opportunity to cross-sell and upsell to their existing customers. When your company has a unified view of the customer, integrating data from multiple systems, call-center agents will be better equipped to guide those customers to the products and services that are most likely to interest them. And outbound digital communications can be easily customized to dynamically display offers relevant to each customer based on their individual data profiles.
Start quickly and scale up when you need to
Precisely's EngageOne Communicate is a highly flexible and configurable platform that companies of all sizes can use to deepen customer engagement, improve service levels, and operate more efficiently. With EngageOne, Communicate your organization can implement exactly what you need using any customer communication channel.
As your needs change, or as consumer preferences shift, EngageOne Communicate gives you the flexibility to add new features. For example, you might choose to begin with personalized emails to onboard customers to their new account or product, and later add interactive video billing explainers, special offers, and other features using the same data source. Chatbots can be integrated into videos to take customer self-service to the next level, allowing them to get the answers they need along their service journey.
EngageOne Communicate also allows for rapid implementation.  By starting small, your company can achieve quick wins and build upon those to work toward greater efficiency and a holistic omnichannel experience for your customers.
To learn more about how to create a digital self-service engagement strategy to compliment your call center, read the Smart Insights report Personalizing Customer Engagement.