Precisely Points of Interest
Caractéristiques commerciales, géographiques et de loisirs détaillées pour l'intelligence géospatiale et concurrentielle
Couverture pour une activité mondiale
Les jeux de données Precisely Points of Interest (POI) sont multi-sourcés afin de fournir des informations précises sur la localisation et les sociétés pour les entreprises, les loisirs et les caractéristiques géographiques dans plus de 175 pays et territoires dans le monde entier.
Chaque jeu de données contient des références croisées pour déterminer les relations et les informations stratégiques et s'appuie sur un système de classification hiérarchique garantissant la cohérence à l'échelle mondiale et simplifiant l'utilisation. Les points d'intérêt sont classés en plus de 19 000 catégories, notamment les transports, les magasins, les services publics, les lieux de restauration et les instances gouvernementales. Grâce à l'accès à des millions de points d'intérêt, vous pouvez approfondir votre analyse par une classification détaillée qui reflète la diversité des entreprises.
Les Geofences (zonages géographiques ) délimitent l'étendue de magasins, les sites et d'autres propriétés commerciales spécifiques.  Chacun est créé à partir de géocodes de haute qualité pour garantir la précision lors du déploiement de messages et services vers des localisations spécifiques.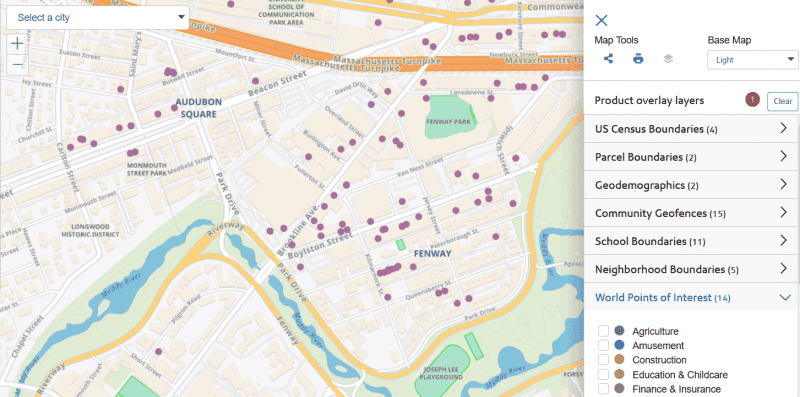 Attribution détaillée
Chaque enregistrement de point d'intérêt contient 70 champs d'attributs distincts liés à sa localisation, son profil d'activité et son affiliation à une marque. Les informations de localisation sont fournies à la fois sous forme d'adresse postale et de coordonnées de latitude/longitude en vue d'une analyse flexible.
Precisely Points of Interest est mis à jour mensuellement afin que les informations soient actualisées et pertinentes. Il contient des attributs détaillés spécifiques aux entreprises tels que le nom, les coordonnées et l'adresse Web. Il fournit également des informations d'analyse plus approfondies accompagnées de données sur le chiffre d'affaires, les employés et la marque.
L'interopérabilité facilitée par le PreciselyID vous permet d'analyser les points d'intérêt avec d'autres jeux de données portant sur les risques environnementaux, la démographie et les informations foncières. Vous pouvez ainsi appréhender une localisation de façon plus complète et plus précise par l'ajout d'informations commerciales à chaque adresse.
Analyse complète
Precisely Points of Interest facilite les activités métier et l'analyse dans différents secteurs d'activité.  Combinez les points d'intérêt avec vos propres données pour créer des cartes informatives, afficher et analyser les tendances, comprendre les menaces et les avantages de la concurrence et réfléchir aux possibilités de croissance.
Vous bénéficiez d'une visibilité précieuse sur la part de marché vous permettant de prendre des décisions sur la sélection d'un site, d'analyser l'accès aux services et de comprendre la couverture des fournisseurs.
Vous pouvez également effectuer des recherches fiables et actualisées du type « trouver… le plus proche », déployer un marketing ciblé basé sur la localisation à l'aide de zonages géographiques précis, évaluer les risques fonciers en fonction de la proximité d'autres entreprises et établir des liens entre les entreprises avec un aperçu de la structure de leur marque.
Consultez notre portefeuille complet de jeux de données de points d'intérêt
Points d'intérêt commerciaux
Zonages géographiques
Points d'intérêt mondiaux
Vous souhaitez en savoir plus ?
Analyst Report
Harvard Business Review: Changing the Rules of Data
Télécharger
Webinar
Welcome to the Precisely Data Experience
Télécharger
Webinar
Data Enrichment Your Way - Data-Driven Retail Analysis Using Tableau
Télécharger
Demander une démonstration de
Precisely Points of Interest